Sequi Linea
Although I have found traveling to be a major benefit of becoming a Freemason, it does not necessarily outweigh the benefits one receives as being part of the home lodge. For me, that's Claremont Lodge No. 436. The Blue or Craft Lodge is the foundation of Freemasonry, without which Freemasonry could not exist. It is said that all the light of Freemasonry is found within those three degrees, but if that's so, why are there more degrees? Because there is so much to learn, that's why. It is often recommended that new brothers take their time with those first three degrees. To be sure, Traditional Observance lodges have sought to reclaim some of the reverence, solemnity, and respect for the ritual by having brothers take their time through each of the degrees. Further, they do away with the idea of a progressive line of officers, indicating that selection and advancement of officers should be based solely on merit.
With that said, my advancement through Freemasonry so far has not been in the way of a Traditional Observance lodge by any means. I moved rather quickly through the degrees, being initiated in October and raised by February the following year. Mind you, I was constantly studying and reflecting on the meanings of the symbolism and applying it to my life as best as I was able. My quick advancement and constant learning must have impressed my brothers, as I was soon asked if I was interested in a position on the line. I told the Worshipful Master that I had no aspirations for becoming a leader. My only motivation was to better myself. If moving up the line of officers would help in that endeavor, then I would be willing to do it, provided the brothers wanted me in that position. He told me that it was up to me, but he seemed to hope that I would take on the responsibility.
I have no problems with the responsibility, nor learning or being involved with the ritual. I do have a fear of being in front of others and public speaking, which is something I have been work on for years. I found singing Karaoke helped in that as well. Because I want to work on bettering myself, I knew that being more involved in the ritual was important. Part and parcel to that involvement was becoming an officer. So, I informed the Worshipful Master of my interest, and at the next stated meeting (May) I sat in my first officer's position: Tiler (or Tyler, depending on where you live).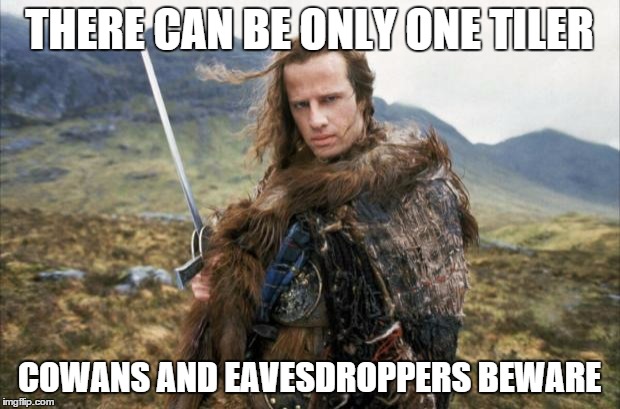 The Tiler position is an easy opener for someone wanting to be an officer, as it does not require much effort. You just sit outside of the lodge room and insure that no one comes in that isn't a Mason, and sometimes you carry a sword. I didn't have any lines, and I was able to sit outside and practice the proficiency for my third degree. We didn't have any degrees that month, so we just practiced degree work the second and third weeks of the month. I practiced several positions, including Junior and Senior Steward, and Junior Deacon.
The morning of the June stated meeting, I received a text from the Worshipful Master asking if I felt I was comfortable enough to be Junior Deacon, as our appointed Junior Deacon was out of town. I told him that I would do it. That day, I ran through my lines of ritual over and over, and I went early to lodge to practice my floor work. I wanted to make a good impression. It was a good thing that I was so diligent, as the Assistant Grand Lecturer and District Inspector were in attendance that night. I was so nervous, but I did my best.
Then next week, we had practice for the first degree. The Worshipful Master asked me if I would be comfortable covering for Junior or Senior Steward, if the officers were unable to make the first degree scheduled later that month. I told him I would, and I spent that practice going over the floor work for both positions. Two weeks later, we had two new brothers initiated, and I was the Junior Steward for those degrees. I remained in that position for the following stated meeting (July).
At the end of July, we had a third degree scheduled for Bro. Andrew Bridges, who was the second contributor to this blog. He has become a good friend of mine and I was looking forward to being an sitting as Junior Steward for his degree. The next week, I missed the practice, because the Junior Deacon and I went to a concert at Irvine Meadows Ampitheatre with his wife. We could not miss the blast from the past: Smashing Pumpkins and Marilyn Mason together! I felt bad for missing practice, so I worked extra hard at the next two practices and learned second base (an important part of the third degree ritual).
The day before Bro. Bridges third degree, I received a text from the Worshipful Master informing me that I would be Senior Steward for the degree. I said I would do it without a second to think. Then, I got nervous. I knew I could do it, but I wanted it to be great. I wanted to do well for Bro. Bridges (and for all the brothers in attendance). Not only was I going to be Senior Steward, but I was also going to be second base for sure. The next day, I had lunch with the Junior Deacon and Bro. Bridges, then we went to lodge early and set up for the degree. As Bro. Bridges waited in the hall, I practiced as much as I could.
Not an hour before the degree was to begin, another Brother let us know that the officers of the Upland-Mt. Baldy Lodge No. 419 would be in attendance. Now my nerves were stretched to the max. I was to perform two parts of ritual I had never done before with a much larger audience than expected with members of a lodge we had visited for a third degree only two months prior. I did my best. That's all you ever can really do. I made a few little mistakes, needing prompting here and there, but I killed the most important part (second base). I mean, I didn't miss a beat. Not the whole thing, just the bit before the third base bit, but still, I did well, being a first-timer and all.
The most important thing was to take me out of it; not think about it. It couldn't be about me. It had to be about doing the best job I could do for Bro. Bridges. I am steadily feeling more and more comfortable with performing the work and taking on additional responsibilities. After the performance, the Worshipful Master told me to keep studying second base, as I would continue to do the role in future degrees. Although several brothers complemented me, saying I did a great job, I think that truly was the greatest compliment and achievement.
I'm not sure what I'm going to be doing next year in lodge, but I know I'll be sitting in one of those officer's seats. I'm working on my third degree proficiency and have scheduled to return it at the September stated meeting. My goal in Freemasonry is to learn each of the positions and move through the line, not because it's expected of me or because I have an ego, but because I want to. I want to do this work for my brothers. I want to continue to move through the line, if they want me to do it. I look forward to what the future has to offer, and I look forward to moving up with my friends.